5 Conventional Lifting Rules to Break to Build More Muscle
There's always some genius at the gym, ready to fill you in on the latest muscle-building strategy. They're the jacked up sage of the weight room, more than ready and willing to spread their gospel far and wide. Sarcasm aside, you know probably you shouldn't take advice from these lifters—about anything—even if they're bigger and stronger than you are. And yet chances are you've come to believe that what they've told you about building muscle is the irrefutable truth.
But Men's Health fitness director Ebenezer Samuel, C.S.C.S., is not one of those false muscle prophets. Samuel's techniques are tried and true from his years of training and knowledge of muscle science and biomechanics. He created of the New Rules of Muscle program (available on DVD and the new streaming All Out platform) to share his knowledge with you, so you can stop listening to those guys at the gym.
Here are five "rules" for lifting that you need to start breaking if you want to see gains.
1. "You Have To Go Heavy"
It's true that the more weight you lift, the more muscle you have the potential to recruit—but going super heavy on your exercises can also make you cheat form, and that deprives your muscles of growth stimulus while also raising your risk for injury. According Samuel, you should perform most of your exercises with lighter weights, and focus on making them feel heavier by doing them more strictly.
"Don't cheat yourself on a rep," says Samuel. "People are always letting their elbows come forward and up to their chests on curls and skull crushers just to lift more weight. All this does is take tension off the muscles you're trying to train."
2. "Pump The Weight"
Yeah, we know it's called "pumping iron," but that's a misnomer. You get more out of your muscles when you lift weights at a slower, steadier cadence, rather than bouncing your reps out of the bottom position or blasting through sticking points with momentum.
"We all need to slow down our reps to get the most out of them," says Samuel, who recommends you count to three (in your head) when you're lowering your reps. "You can also experiment with pausing your reps for a moment at the midpoint, which really helps to lock in your form and make the muscles work." For example, as you raise the dumbbell on a curl, stop when your elbow is bent 90 degrees and hold the contraction.
Slower, more controlled sets increase the muscles' "time under tension," the duration they spend contracting, which is a proven stimulus for growth. While it will require you to use a lighter weight than you could performing your reps pump-style, load isn't the ultimate factor in getting big (ahem, see rule #1).
3. "Monday Is Chest Day"
For an unofficial rule, it sure seems to be well enforced. Go into any gym on a Monday and you'll see guys loading up on bench presses (presumably because they're fresh from the weekend and want to attack their favorite muscle group with full energy). But Samuel says chest work shouldn't be your top priority, even if getting beefier pecs is your ultimate goal.
"In the New Rules of Muscle program, we train back before anything else," says Samuel, "because back is weak for most guys, since they sit at desks all day." Doing twice the amount of rowing and reverse flies that you do pressing will help to improve your posture and ward off shoulder injuries. Try putting your back day first in your training week to prioritize it, or at least alternate sets of every chest move you do with a row, face pull, or band pull apart, so that you can keep the opposing muscle groups in balance with each other.
Over time, you'll find that stronger back muscles help to draw your shoulders back, spreading your pecs. This makes your chest muscles look bigger all by itself.
4. "You Have To Press Overhead"
No doubt about it, pressing a heavy barbell straight overhead is one of the manliest things you can do—unless it wrecks your shoulders and back. And most guys find that, over time, it does. "We have very few exercises in the New Rules program that have you lifting your arm above shoulder level," says Samuel, "because most men have muscle imbalances that lead to shoulder injuries, and overhead work will make it worse."
Another problem for many men is that they can't even press the bar in a straight path anyway—their upper backs are too stiff from sitting round-shouldered in front of computers and looking at their phones. As a result, they have to arch the low back excessively to press the weight up, and that can lead to back pain.
Samuel says that overhead pressing is overrated for delt development anyway: "The front of your shoulders gets plenty of stimulus when you do bench and incline presses. Lateral raises will take care of the side delts, and the rear delts get a lot of work from rows, reverse flies, and pulldown variations." Therefore, there's no dedicated shoulder day in the New Rules program, but your delts will grow just fine without it—and even more importantly, they won't ache afterward.
5. "You Have To Train Abs Every Day"
This one is actually partly true. You don't have to work abs every day of your life with old-school moves like crunches and situps—but you should make your core a priority, and you can save time and effort by training it in conjunction with your other exercises.
"Everything we do in New Rules starts at our core to offset the weakness that results from all the sitting we do these days," says Samuel. "We have one day where we really kill the core directly, but in every other workout, I'm challenging viewers to use their core in stealth ways—stabilizing the body on exercises where you work one side at a time, be it presses, lunges, or even curls."
Unilateral moves, and any others where you have to fight to maintain balance, give you plenty of ab work while you train the bigger muscles, maximizing your time in the gym. Sometimes the core involvement will be so subtle, you won't even think of the exercise as working your abs (such as in a single-arm, single-leg row, or a one-arm cable fly done kneeling on the floor)—that is, until you're sore the next day.
For more tips and tricks to explode your muscle gains, pick up The New Rules of Muscle program on DVD or on the All Out streaming service.
11 Best Sports Podcasts For Fans of Baseball, Football, More 2020
Sports talk still exists in a big way—turn on ESPN at any hour of the day, and you'll most likely see someone yelling something about some big play, or big controversy within the wide world of sports. If you hop in the car and turn on the radio, chances are you'll find a sports talk show before too much time passes. But in 2020, more than ever, the sports talk landscape has expanded beyond these two traditional medias and into podcasting, a format that allows significantly more freedom and a significantly more flexible structure.
Below, we've done the work of gathering 11 of the very best podcasts of the moment, focusing on different aspects of the sports you can't get enough of. Whether it's gripping stories, useful advice, or just listening to some fans talking shop, each of these podcasts has a specific purpose, and fills it admirably.
ESPN Daily
In the world of news, The Daily (from The New York Times) has been a bonafide smash, a podcast that comes out Monday through Friday morning and dives in-depth into the biggest story of the day. It's been such a success, in fact, that ESPN decided to give the same idea a shot in the sports world. Hosted by one of the network's best personalities in Mina Kimes (she both writes and appears on-air for ESPN, in addition to hosting her own podcast and being a top-tier Tweeter), The ESPN Daily Podcast has access to the network's best talent when covering the sports world's biggest stories.
A recent edition of ESPN Daily, for example, features Kimes talking about Alex Cora, the now-former Red Sox manager who lost his job due to his role in the uncovered Houston Astros cheating scandal. Where many sports podcasts might just talk about this story, ESPN Daily has access to ESPN's Buster Olney, a super plugged-in MLB insider. The perspective here is unparalleled, making it a quick hit and a must for the sports fan
The Bill Simmons Podcast
I'm going to tell you all about The Bill Simmons Podcast, but first…our friends…. from Pearl Jam.
Sorry, I had to. As anyone who's ever listened to the podcast hosted by the former ESPN personality-turned-founder of The Ringer could tell you, the inside contents of an episode of The Bill Simmons Podcast can vary greatly, but the show is always going to begin and end with a pair of very familiar Pearl Jam riffs. Whether it's sitting down with top-tier athletes like Kevin Durant, or talking shop with sports-loving superstars like Ethan Hawke or Matt Damon, Simmons usually tends to land amazing guests. But the best episodes of the show are often when people drop everything else and just talk sports, like you do with your buddy down at the bar. Simmons (who at one point wrote for Jimmy Kimmel Live!) often talks sports and gambling with Kimmel's Cousin Sal, a combo that's not only informative, but super funny. Most importantly, though, Simmons and his guests just love sports, and you feel that in every episode. As a Knicks fan, I don't think I'll ever forget the emergency Simmons podcast last winter after Kristaps Porzingis was traded. Dark times!
Listen to The Bill Simmons Podcast
Gladiator: Aaron Hernandez and Football Inc
Did you listen to Serial? Or maybe S-town? Are you watching Netflix's new documentary Killer Inside? Well, the Spotlight team from The Boston Globe (yes, the real-life version of the team that you saw expose the atrocities of the catholic church in Best Picture winner Spotlight)joined forces with podcast production company Wondery to produce Gladiator, which, in a way, combines all of those things.
The addictive, true-crime storytelling style of Serial combines with the tragic story of former NFL star Aaron Hernandez, who went from signing a 40-million dollar contract to convicted murdered to dead by suicide over the course of just a few years. This eight-part story tells it all, complete with more details than you could've possibly imagined. Even if you thought you knew the whole story, you probably don't.
Listen to Gladiator from The Boston Globe
Fantasy Focus Football
For those of you (all of you) who play Fantasy Football, ESPN's Fantasy Focus is your best bet for the most entertaining show in the business. Airing five days a week during peak football season, this show features a more even split than the hosts would admit between football analysis (led by ESPN Insider Field Yates and Matthew Berry, a fantasy football pioneer who also made a cameo in Avengers: Endgame (!)) and good old fashioned podcast nonsense. For lack of a better term, these guys like to have fun. The show has fans new and old, but it doesn't take long to get in on some inside jokes, and also learn a little bit about who your best bet at the Flex spot might be for Week 9. (A Fantasy Focus Baseball podcast, hosted by a pair of veteran ESPN analysts, also airs twice a week in the spring)
Listen to Fantasy Focus Football
R2C2 is UNINTERRUPTED
He may have just finished up his final season as a member of the New York Yankees, but CC Sabathia has already become a veteran in something else he's a natural at: podcasting. This show from the 251-game winner and his co-host, ESPN and YES Network broadcaster Ryan Ruocco, originated as a podcast from The Players Tribune, and now is hosted on Uninterrupted, a player-empowerment platform owned by LeBron James and Maverick Carter.
Sabathia and Ruocco have a natural chemistry, and their conversations in each episode feel like one that you could join in on at a moment's notice. Topics range from pop culture and anectodes to the happenings of the day in baseball, but the most interesting moments come when CC shared unfiltered feelings, perspective, and true stories from inside the Yankees dugout and around the major leagues. In a recent episode, the 6'7" pitcher addressed the aforementioned Houston Astros cheating scandal that's rocked Major League Baseball, and held nothing back: "Fuck that!" he said, adding a ton of insight from a player who lived something we're all reading about in real-time.
Listen to R2C2 is UNINTERRUPTED
30 for 30 Podcasts
One of the coolest entries on this list, 30 for 30 Podcasts (named for ESPN's ultra-successful sports documentary series) is basically a sports version of NPR's This American Life, with each episode telling a different story in the format of an audio-only documentary. Last summer, the podcast ran a three-part feature, titled The Sterling Affairs. The Sterling Affairs gave new insight and original reporting on the scandal that led to Donald Sterling, former owner of the Los Angeles Clippers, to sell the team after an unearthed recording revealed him making racist remarks. For anyone interested in sports stories that dig deeper and might have slipped through the cracks, this one is for you.
Only a Game
The equation for this one is really quite simple: it's NPR's sports show. If you're into Fresh Air, or Planet Money, or Morning Edition, chances are you'll enjoy this show, which also gets into individual story segments with each episode. About a year ago, the show ran an incredibly touching segment featuring former NBA star and TNT Inside the NBA analyst Charles Barkley, of all people. By the end, make sure you look around wherever you're listening, because someone will probably be cutting onions.
No Dunks
If you're an NBA fan just looking for a weekday recap of what went down in this crazy league we all love so much, No Dunks, from The Athletic, might just be your best bet. The hosts, Skeets, Tas, Trey, Leigh, and JD, are informative about what's happening around the league, but without feeling like you're watching special reports from ESPN every day; they feel like some of your friends and you're having a couple beers.
The Fantasy Footballers
Another option for pristine Fantasy advice. Based independently out west in Arizona, if ESPN isn't your flavor, you should check out The Fantasy Footballers. Hosted by Andy Holloway, Jason Moore, and Mike Wright, these three guys clearly have been friends for a long time, and also do their homework. When the show isn't making you laugh with their incredibly fun, sometimes nonsensical bits (usually linked to specific players), it's rewarding your time with really great advice that can help you win in Fantasy Football—and maybe even make a little money.
Listen to The Fantasy Footballers
Men in Blazers
If you're a soccer fan—particularly an American soccer fan—this one is for you. Michael Davies and Roger Bennett preview each weekend's premier league games, and when that magical time every four years comes to talk about a World Cup, these guys don't only know their sh*t, but they'll make you laugh while talking about it. They've been on ESPN before, and now their show airs on NBC Sports Network, but their podcast is available for whenever you might need it.
The JJ Redick Podcast
While we're naming JJ's as the recommendation here, this is also a shout out to any NBA player still in the league who simultaneously has a podcast. Redick and Vince Carter (Winging it With Vince) both have podcasts on The Ringer, and Blazers star CJ McCollum also has his own.
When he's not draining threes for the New Orleans Pelicans, Redick is a natural behind the mic; with the help of his co-host Tommy Alter, he has guests on his show like his rookie teammate (and fellow Duke Blue Devil) Zion Williamson, as well as comedians like Hasan Minhaj.
Listen to The JJ Redick Podcast
Mike's On With Francesa
Come on, y'all. We had to include The Sports Pope here. Ever since Mike and The Mad Dog launched in 1989, Francesa has been a fixture of the sports talk world, despite his show being rooted only in New York City. He's got a 30 for 30!
Not only is the born and bred New Yorker an absolute legend and the king of the hot take, but after a stunning turn in Uncut Gems, he's now an acclaimed actor, too. Did you hear him drop that F bomb?
You could also check out @BackAftaThis for all the worthy highlights, too. Either way works!
George Lucas Cradles Baby Yoda in Image Shared by Jon Favreau
Jon Favreau shared a photo of Star Wars creator George Lucas cradling the still-unnamed Baby Yoda to his Instagram and Twitter feeds.
Fans and even Star Wars actors saw the image and felt their heart melt.
The second season of The Mandalorian is currently in production.
---
The first season of Disney+'s The Mandalorian might be in the books, but the mania and lovefest for Baby Yoda is continuing on, full speed ahead. The latest figure to be seen in public admiration of Baby Yoda is none other than Star Wars creator George Lucas himself. Lucas was spotted in both a captionless Tweet and Instagram from Mandalorian showrunner Jon Favreau fully cradling Baby Yoda, looking at him with what could only be described as a loving gaze.
Before The Mandalorian debuted in November of last year, Favreau had talked about his past meetings with Lucas, and the advice he was given by the man who originally brought Luke, Leia, Han Solo, Darth Vader, and the original Yoda to the big screen.
"The one thing he said to me was, 'Remember, Jon, the real audience for all stories and all myths is the kids that are coming of age,' because he's really a Joseph Campbell adherent," Favreau told GQ Middle East in an interview last year while promoting The Lion King. "We enjoy the stories as adults, but, really, storytelling is about imparting the wisdom of the previous generations on to the children who are becoming adults, and giving them a context for how to behave and how to learn the lessons of the past without making the mistakes on their own."
What's not clear to anyone—due to Favreau's lack of a caption—is whether this photo of Lucas and Baby Yoda was a new photo or an old one. Is this a brainstorm for Season 2? Is this on-set of Season 2? It's not clear, but seeing the faces of Star Wars past and present looking longingly into each others' eyes is certainly one that fans of the franchise have to be happy to see.
While Baby Yoda just might be the smallest major character in the Star Wars canon, the actor who just might play the biggest, Joonas Suotamo (Chewbacca), saw Favreau's post and chimed in on both. "The Maker and The Child," he wrote.
Others speculated what Lucas could be doing if he was indeed, on set with Favreau.
On a related note, it won't be long until fans of Star Wars and The Mandalorian can start to cradle their own Baby Yoda, just like George Lucas. Disney agreed, initially, to hold off on selling Baby Yoda plush toys, action figures, and other merchandise so to keep the character's initial appearance under wraps, but all of that is now on the way. For anyone wanting to take things a step even further, Build-a-Bear workshop announced this week that they'll allow customers to make their own Baby Yoda.
Watch Dr. Pimple Popper Wiggle a 'Chicken Tender' Lipoma Free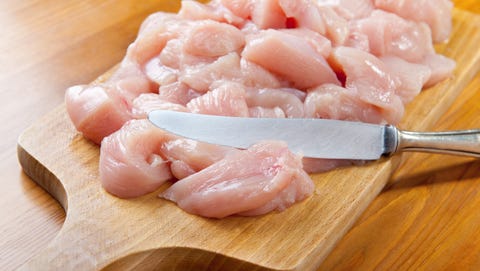 Arletta Cwalina / EyeEmGetty Images
In a new Instagram video, Dr. Pimple Popper removes a "chicken tender" lipoma from a patient's arm.
Dr. Lee wiggles the slender, jiggly lipoma out of a small incision using a tweezer-like surgical tool.
Lipomas are benign tumors made up of fat tissue that are painless, though they can grow to be quite large.
You won't want to chow down on this "chicken tender." In a new Instagram video, Dr. Pimple Popper — aka, dermatologist and TLC host Dr. Sandra Lee, MD — removes a slender, jiggly lipoma resembling a raw chicken strip from a patient's arm.
In the short clip, Dr. Lee uses a pair of surgical tweezers and some blunt surgical scissors to loosen the lipoma from the women's arm. She then pulls the fatty tissue through a small incision to remove it in one piece. The growth emerges looking like a raw chicken tender, with a thin and jiggling appearance.
A lipoma is a benign tumor made up of fat tissue, and are actually most commonly found in men. The growths are usually painless and commonly grow on the arms, back, and legs. The distinct yellowish color of lipomas is the same color of most fatty tissue on the body, and gives this growth an especially chicken-like appearance.
In the video, the patient and her family say they've been waiting to say goodbye to the growth. Dr. Lee suggests the family say, "Hasta la lipoma" to bid it farewell. Hopefully the family will be OK saying goodbye to any chicken strip cravings they've been harboring, too.
Watch the raw chicken removal below: