How Timbaland Stared Down Death, Beat Addiction, and Lost 130 Pounds
ON OCCASION, Tim Mosley will pour a glass of merlot, step through the sliding glass doors of his spacious white Miami home onto a patio perched over Biscayne Bay, and, as evening softens the subtropical heat, gaze out over the waves at the horizon. Known to the world as Timbaland, Mosley has earned this vista. For more than two decades, he has helped propel many of this era's most successful musicians, including Missy Elliott, Beyoncé, Jay- Z, Drake, Rihanna, and Justin Timberlake. In his run as a producer, performer, and label owner, he has thrived in the mercurial world of popular music. Yet he also understands the elusiveness of that shimmering view.
A few years ago, Mosley was staring into a different kind of emptiness, as the most important things in life—family, finances, and health—tumbled chaotically around him. He almost lost it all, and that threat sparked a renaissance. It's a journey he's still on, but it has included years of boxing, dropping more than 100 pounds, and gaining a new perspective. But first he had to kick the drugs.
Looking back, Mosley wonders if the problems weren't inevitable. "I had to get whipped, because I didn't appreciate anything," the 47-year-old says in his syrupy southern lilt. He's seated at a white stone counter in his kitchen, dressed in gray workout clothes. Mosley, who sports a goatee with a bleached center stripe, looks you in the eye when he talks, searching for signs that you understand what he means. "All my life I felt it was a little too easy."
It's true he has known mostly ascent. Success arrived early—working with Missy Elliott straight out of high school in Virginia Beach, then helping to produce Aaliyah's double-platinum album One in a Million. Accomplishment may have come fast, but Mosley worked hard to keep it up, spending hours in the studio hunched over mixing boards, headphones on, eating vanilla ice cream through the night.
Unhealthy eating habits aside, the intense focus on the creative part of his life made other areas vulnerable. In 2011, after receiving a prescription for painkillers following a root canal, Mosley started abusing OxyContin and Percocet. Then "my arm started bothering me," he says, the remnant of an old injury—at 17 he was shot accidentally while working at a Red Lobster. More pain gave him an excuse to ask for more pills.
As pressures mounted, his pill abuse worsened. Divorce proceedings with his wife, Monique, which began in 2013, dragged on for years. His finances fell into disarray. The IRS filed a $4 million lien for three years of unpaid taxes, a lapse that he attributes to confusion and inattention during his addiction. The painkillers put him in a place where everything felt all right, even when it wasn't. "It put me in a great feeling of not caring, of just being free," he says. "I'm like traveling, doing shows, popping 'em, having fun, just being ignorant."
He doesn't remember how many pills a day he was taking, other than to say it was "way over the limit." He began to feel foggy, dull. Mosley also started putting on weight and developed prediabetes. He grew sluggish. Tired. Lost. And then there was a nightmare. "I had a dream that death was near," he recalls. "I saw myself with a white face." That's when he woke up.
Mosley has a daughter, 12, and two sons, 17 and 27. He realized he needed to save himself for them. "It's like a bright light going on in your brain," he says about raising children. "That's how you know what true love really is."
Crawling out of the hole his life had fallen into required strategy and planning. He moved from a 14,000-square-foot mansion outside Miami to a 2,500-square-foot condo downtown. "I had to downsize, get all that superstar stuff out of the way," he says. He settled with the IRS. Then he worked to settle with his ex-wife. "The divorce at the beginning was very messy, but now we are good friends."
That left his addiction, and he decided to quit all by himself. "Just me and God," he says, adding that there was no other option. "This was the path chosen for me. God was rebuilding my character." Mosley, raised a Baptist and today a follower of the nondenominational pastor T. D. Jakes, would lean heavily on spirituality in the fight to get clean.
His method was to take fewer and fewer pills from his existing stock until there was nothing left. That took about two weeks. Afterward came withdrawal. "One of the toughest things I've been through," he says, shaking his head at the memory. "The only things that got me through it were my kids, my girl, the help of God keeping my mind still."
By this point, Mosley's girlfriend, Michelle Dennis, had moved to Miami to be with him. "I have a great woman who stood by my side through the whole thing," he says. It was Dennis who found Punch Elite Fitness, in Miami's Wynwood district. Mosley had never boxed before but liked the challenge. When he walked into the gym the first time, he was in rough shape, weighing about 350 pounds at five-foot-seven, recalls gym co-owner Ricardo Wilson. (Boxing coaches remember these kinds of details.)
"He had a lot of aches and pains," Wilson says. He had "glute and hamstring deficiencies" from lack of exercise, and he was hunched due to back pain. Before he ever stepped into a ring, Mosley had to work on posture and range-of-motion exercises, Wilson says, including hip openers, posture squats, and standing leg curls. Then came shadowboxing, jumping rope, and hitting the bag for ten three-minute rounds at a time. Eventually Mosley graduated to sparring. The workouts were hard, but nothing compared to withdrawal. "When you get beat up the way I got beat up mentally, this ain't hard," he says.
As Mosley began losing weight, Wilson noticed another change: "His energy levels increased, and then he started challenging other clients in the gym, to push them." And Dennis kept pushing Mosley.
After a year, he had lost 50 pounds, and the couple started working out twice a day, boxing in the mornings and doing cardio and weights at night.
When Mosley had dropped 40 more pounds, he decided he wanted to "level up" and train where the athletes train. While continuing to box on Sundays, he moved his weekday workouts to DBC Fitness. The gym specializes in biomechanics and works with a roster of pros, including Dwyane Wade, formerly of the Miami Heat, and the Dolphins' Reshad Jones.
For all the progress Mosley had made at Punch, DBC co-owner David Alexander still considered him "a work in progress." His feet and ankles were not working right, Alexander says, and he came in "grossly overweight," about 260 pounds. So Alexander designed a program around seven general movement patterns: squat, lunge, hinge, push, pull, twist, and gait.
"He has a no-quit mentality," Alexander says. "He understands that this is his new life. It's not something that's going to go away in three months. And he's committed. Tim is one of the most mentally strong guys out there."
Alexander put together a nutrition plan and hired a chef to create a menu of weekly meals to be delivered to Mosley's home. Chicken, salmon, vegetables. Three and a half liters of water a day. No processed foods. "If it didn't run, grow, crawl, or swim, we don't eat it," Alexander says.
Mosley's cheat is a weekend glass of red wine, poured from a bottle from his kitchen's wall-length wine fridge; he enjoys it on that waterside patio now that his life has been restored and he is living in a luxury condo. He says he's clearheaded and newly inspired, focused on growing what he started nearly 30 years ago. "I'm more about the team building," he says. He recently finished work with big-timers Kanye West and Coldplay, but he's also collaborating with young artists.
"God has me under construction, which I'm still under," Mosley says. "I don't feel like I'm complete. I don't want to ever feel like I'm complete, 'cause my mind would probably get idle. God needed me to be clear so I could see what is needed, not what I want."
12 Best Soaps for Men 2020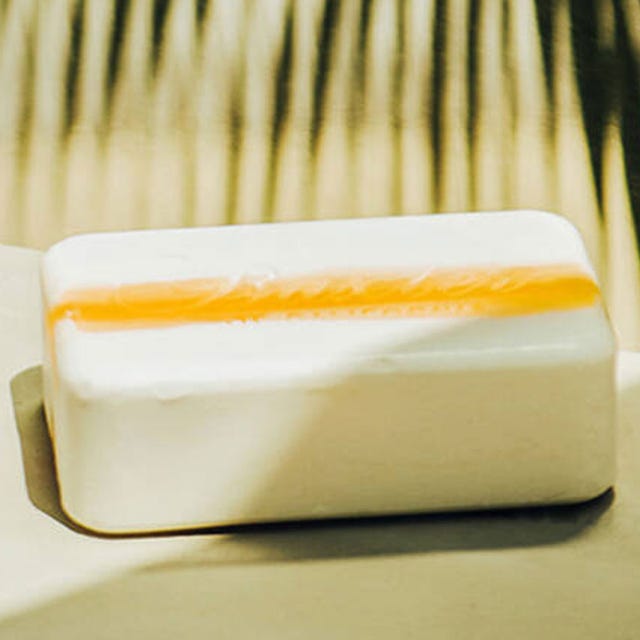 Assorted Retailers
You may not have thought about bar soap in a while, except when you're suddenly confronted with it in a hotel room shower or a guest bathroom. It seems retro, like something you used when you were taking baths as a kid, but we say it's time to re-examine the power of the bar.
Body washes may be exceedingly popular among men, especially those who struggle with dry skin, but the kind of clean you get from a bar soap is second to none. While they are not self-cleaning as Joey Tribbiani once claimed, they get the job done with less mess and can last longer than a bottle of wash.
Plus, in our current age of sustainability and eco-friendliness, bar soaps come with less waste. Think about it: they're smaller, you can use them till they're completely gone, and there is no plastic bottle to throw into the recycling bin when you're done. Many soap companies are even changing their packaging to make bar soap an even greener option. In short: there is no way Greta Thunberg uses body wash.
Bar soaps are versatile and can be great for you no matter what your skin type. You can find a soap for oily skin, dry skin, sensitive skin, and everything in between. Check out the 12 best bar soaps and we promise, you won't go back to the bottle.
Advertisement – Continue Reading Below
Baxter of California Vitamin Cleansing Bar
baxterofcalifornia.com
$18.00
One of the biggest complaints about bar soap is that they can make your skin feel too dry; not this one. It contains sunflower oil and glycerin to keep your skin hydrated and smooth all over. Plus, the citrus and musk fragrance is one of our favorite men's scented soaps.
Method Men Sea + Surf Exfoliating Bar Soap
Exfoliating bar soaps have a little grit in them to help smooth away dry, dead skin cells and leave your body feeling clean and fresh. This one contains minerals, instead of microbeads (better for the environment) and the scent is fresh without being overpowering. 
Dove White Beauty Bar
This dermatologist-endorsed bar is one of the best for your face, but here's a secret: you can use it all over your body, too, especially if you have sensitive skin. It's contains gentle moisturizing ingredients that hydrate and clean skin without overstripping it.
First Aid Beauty Ultra Repair Gentle Cleansing Bar
Another soap bar that can be used on your face as well as your body, this one includes colloidal oatmeal, which is known for its skin-soothing properties. It's ideal if you struggle with sensitive or dry skin and other skin issues like eczema.
Beekman 1802 Goats Milk Bar Soap
Beekman soaps are hand made from natural ingredients. The brand says goat milk is a natural anti-inflammatory agent, which means it may help calm irritated skin while cleansing. All we know is that it smells damn good and leaves you feeling clean AF.
The Rich and Clean No 09 Bar Soap
therichandclean.com
$12.00
For guys with oily skin or who sweat a lot, the charcoal in this soap helps soak up excess oil and leave you fresh without that telltale tight feeling. The Japanese peppermint is said to help curb oil production, but also gives this soap a bite of fresh, but not overpowering, fragrance.
Caswell-Massey Cold Cream Luxury Bath Soap Set
Triple milled soap is known for its silky-smooth texture and it cleans effectively with less lather (which can strip away your skin barrier). The natural vegetable base of this soap is gentle enough for all skin types and the subtle almond fragrance smells fresh, without being in your face.
Ursa Major Morning Mojo Bar Soap
It's called Morning Mojo, because the peppermint and eucalyptus fragrance in this soap gives you a jolt of clarity in the morning, even before you have your first cup of coffee. It has grit to it, but doesn't feel rough on your skin, thanks to moisturizing honey and coconut.
PLANT Apothecary BE GENTLE Organic Bar Soap
This soap is heavy on the shea butter, which is great news if you have dry or sensitive skin. The ingredients are naturally-derived and sulfate-free, but still gives enough lather to adequately clean your whole body.
Oars + Alps Natural Moisturizing Alps Bar Soap
Want to smell like you just got back from a hike through the Rockies? This soap delivers a woody, outdoorsy scent that says "I'd rather be exploring." It also contains shea butter, so it's gentle on even dry skin.
Ethique Pumice, Tea Tree, & Spearmint Bar Soap
Ethique has every kind of bar you could imagine (even shampoo and conditioning bars), but we like this exfoliating and clarifying bar because it helps get rid of dead skin cells and excess oil at the same time. It's ideal to keep in your gym bag for a refreshing post-workout shower.
Lush Karma Bar Soap
This handmade soap sounds like it would be overpowering, but it also has citrus which helps temper what could otherwise be a heavy fragrance. Bars are made fresh with natural ingredients and last for months.
Advertisement – Continue Reading Below
'The Goop Lab' Review – Inside Gwyneth Paltrow's Netflix Series
A few weeks ago, I passed along to a friend some CBD lip balm that had come across my desk. "Sure, I'll take it," the friend said. "And remind me—why would I want CBD in my lip balm?"
The best I could come up with was a shrug, because the mountain of evidence that backs up what it could do in a lip balm is pretty much flat ground right now. But people buy it. It's trendy. They're curious. They want to feel better, look better, be better.
Which is probably one of the reasons people are also tuning in to The Goop Lab, a 6-episode Netflix show that launches today, billed as a series "guiding the deeply inquisitive viewer in an exploration of boundary-pushing wellness topics." It's by Gwyneth Paltrow's "lifestyle brand" Goop, of course, and the 30-ish minute episodes feature its staffers trying trends like psychedelics, cold therapy, energy healing, anti-aging, and psychics. It also explores female pleasure (hopefully not just a trend).
There are plenty of jabs you can take at the series, especially given Goop's history of being slapped with penalties for making false claims about the products it sells (the essential oil that claimed to help prevent depression and the infamous Jade Egg). But passing on egregiously bad "facts" isn't really one of them. In what's probably a smart move for the company but a less helpful one for viewers, there aren't a lot of them. In the first episode, staffers fly to Jamaica to take psilocybin—magic mushrooms—after a brief interview with the executive director of MAPS (Multidisciplinary Association for Psychedelic Studies) Canada, who outlines some legit findings about psychedelics (sure, it could go deeper, but it's not claiming to be an investigative show). Their experience is interspersed with testimonials (positive! Whaddya know!) by other people whose lives have been transformed by psychedelics.
The trouble is that when the Goop starts—with the cast in the mushrooms episode imbibing and then crying, hugging, wow-ing over the clouds—you just don't care. All you see is a bunch of willowy superpeople trying this trend as if it were another hoodie from Supreme. The crying, the writhing, the exaggerated comforting hugs feel like an endless scroll through the narcissistic Instagram feeds that make you say, "Oh, congrats! You took another picture of yourself!"
Which can turn the very real quest for feeling better and doing better into a potentially exhausting try-the-trend circuit—or a potentially expensive buy-the-trend circuit, conveniently available on Goop.com. Which may be why, no matter how many times her elegant wrists get slapped, people keep coming back for more Gwyneth, more Goop, more stuff.
Maybe so many people love/hate The Goop Lab and Gwyneth because it's the symbol of the thing we want to deliver but never quite does. It's the thing that left us with an empty wallet and an empty spirit but a smoldering desire to have abundance in both. There it is, the empty tube of CBD lip balm (or roll of CBD toilet paper, or CBD hair products) that's still making you scratch your head about what it does. Meanwhile, you're suffering under your workload, your mom has dementia, that pain in your back keeps getting worse, and you can't afford PT.
For a moment, The Goop Lab might take your mind off all that, if you can stand the Goopy patina of perfection, the peek into "real" experiences that feel as authentic as reality TV does. But at the end of the day, or the end of the episode, you're still left wondering, "now, why do I need this?"
James Corden Doesn't Always Drive During Carpool Karaoke
A behind-the-scenes video revealed that James Corden doesn't actually drive during his Carpool Karaoke segments.
The fans are betrayed. The fans are angry. The fans feel lied to.
This is their story.
---
Update: January 23, 4:28 pm
The Late Late Show has released a statement about Corden's Carpool Karaoke segment: "James always drives during Carpool Karaoke. However, on the rare occasion when there is a stunt component and the producers feel it is unsafe to drive, we will use a rig (tow)."
---
January 22nd was a pretty nice day, full of promise and hope—until Twitter user @zolihonig revealed that James Corden is NOT actually driving during the ever-popular and Emmy-winning TV segment Carpool Karaoke, and he actually just pretends to drive while his shiny black Range Rover is actually pulled around on the road by a truck in front of it.
But how could this be? We've seen Corden turn the wheel. We've seen him put his foot on the brake. We've even seen him, like, swerve out of the way of some unseen obstacle. Well, my dear reader, it turns out that Carpool Karaoke is Corden's finest acting job since his role as Bustopher Jones in Cats.
Fans were shocked at the news, and they made sure that betrayal was heard online:
But even in the midst of all of this outrage, there were a number of people that were like "dude, why would you ever think he was actually driving?"
While they are actually 100% right, and safety should always comes first, it still stings to know that Mariah Carey wasn't really driven around by Corden, or that Michelle Obama had to smile and laugh through a fake car ride. And poor, poor Paul McCartney. Doesn't Sir Paul deserve to be actually chauffeured around?