New Year's 2020 Jumpstart Workout Plan for a Better Holiday Body
Don't overcompensate for the holidays by pushing your body too far in January. Prime your muscles for the rest of 2020.
Begin the year with a total-body circuit. You'll fire up your back, hamstrings, and glutes, then dive into bodyweight moves infused with boxing flavor. Do this workout three times a week, resting at least 1 day between sessions. On your off days, go for a 20-minute run.
Featured Trainer: Ngo Okafor is a two-time Golden Gloves boxing champ and the owner/founder of Iconoclast Fitness Studio in Manhattan. He constructs workouts around classic bodybuilding moves, with occasional dashes of boxing spice, as you'll see in the burpee below.
The Warmup
Start with 30 seconds of jumping jacks, then do 30 seconds of high knees, running in place while driving your knees upward. Then do 1 Spider-Man T-spine stretch on each side. Rest 30 seconds. Repeat twice.
Spider-Man T-Spine Stretch
Start in pushup position. Step your left foot to your left hand. Keep your right leg straight; squeeze your right glute hard. Press your left arm into your left leg. Reach your right arm toward the ceiling, feeling the stretch in your back and abs. Step your left foot back to pushup position. That's 1 rep.
The Workout
Do this workout as a circuit, resting 30 seconds between exercises. Rest 2 minutes between rounds. Do 4 rounds. Use dumbbells that you can handle comfortably.
1. Bent-Over Row
Stand holding dumbbells at your sides, core tight. Hinge forward at the waist and push your butt back until your torso is nearly parallel to the floor. Let the dumbbells hang naturally. This is the start. Keeping your core tight, row the dumbbells toward your rib cage. Pause, then return to the start. That's 1 rep; do 20.
2. Romanian Deadlift
Start standing, and hold dumbbells at your sides, core tight, shoulder blades squeezed, and feet hip-width apart. Hinge forward at the waist and push your butt back, lowering your torso. Lower until your torso is parallel to the floor or you feel your hamstrings tighten—whichever comes first. Pause, then straighten up, squeezing your glutes. That's 1 rep; do 20.
3. Reverse Lunge to Overhead Press
Start standing with a dumbbell at your left shoulder and core tight. Step back with your right leg and lower into a reverse lunge, keeping your chest up. Once your left thigh is parallel to the floor, pause, stand, and then press the dumbbell overhead. Return the weight to your shoulder. That's 1 rep; do 10 per side.
Eb says: "Stop lowering before your back knee touches the floor. Doing so will challenge your leg muscles to continue firing."
4. Pushup
Start in pushup position, core tight and glutes squeezed, hands directly below your shoulders. Bend at the elbows and shoulders, lowering your torso until your chest is an inch from the floor. Pause, then push back up. That's 1 rep; do 20.
5. Burpee to Punch Combo
Start standing. In one motion, place your hands on the floor, get in pushup position, and do a pushup. Stand quickly and throw 6 punches at the air. Start with 2 jabs and 2 hooks. Finish by throwing 2 uppercuts. That's 1 rep; repeat reps for 60 seconds.
Eb says: "Think of each punch as an opportunity to strengthen your abs. Rotate through your hips and be powerful."
6. Mountain Climber
Start in pushup position, core and glutes tight, eyes on the floor directly below. Keeping your core tight, lift your right foot, driving your right knee to your chest. Return your right foot back to the floor and quickly repeat on the left. Continue alternating, picking up speed as you go. Repeat for 60 seconds.
Eb says: "It's convenient to let your butt ride up high when you get fatigued during mountain climbers. Resist that urge and keep your butt below (or on the same level as) your shoulders."
Dr. Pimple Popper Removes a Super Long 'Alfalfa Sprout' Blackhead
In a new Instagram compilation video, Dr. Pimple Popper squeezes a series of gunky blackheads from four different patients.
One particularly lengthy blackhead removed in the compilation has fans calling it an "alfalfa sprout."
Blackheads, or open comedos, are clogged pores that are filled with dead skin cells and oil, often referred to as sebum.
Say "goodbye" to your favorite green superfood. In a new Instagram compilation video, Dr. Pimple Popper — aka, dermatologist and TLC host Dr. Sandra Lee, MD — removes four sticky blackheads from several different patients. One particular blackhead may just be the longest blackhead you've ever seen — and fans are comparing it to an "alfalfa sprout."
Dr. Lee uses a comedone extractor to remove most of the blackheads in the video. The surgical tool pops out the trapped gunk with a firm press to the skin, causing minimal damage to the tissue. The "alfalfa sprout" blackhead is one of the pops released with the comedone extractor, twirling out in a long white string from a patient's nose. It's truly something to see — and will make you avoid a certain superfood forever.
"Alfalfa sprout much?" one fan commented on the video, to which Dr. Lee responded, "Very accurate!" Another added, "That bean sprout," which was followed up by three hearts. What a time we live in.
Blackheads, or open comedos, are actually clogged pores that are filled with dead skin cells and oil, not dirt or grime as myth may suggest. The blackish portion of a blackhead is due to the oxidation of the dead skin cells and oil when exposed to air. The white substance seen in the sprout extraction is actually made of the same mixture of dead skin and oil as the black-hued portion of the blackhead, though these contents are unoxidized.
Watch the video below to see the long bean-like tendril twirl out:
Joseph Baena and Sergio Oliva Jr. Post Ultimate Gym Photo
Joseph Baena, a regular at Gold's Gym in Venice Beach, just posted a workout pic with fellow bodybuilding scion Sergio Oliva Jr., who is currently training for the Arnold Classic in Columbus, Ohio in March this year.
"The Next Generation!" Baena wrote in the caption. "Wishing my brother the best of luck as he trains for @arnoldsports!"
While the two bodybuilders appear to be great friends, their fathers were famous rivals. Baena's father, of course, is the Austrian Oak-turned-Governator himself, Arnold Schwarzenegger, who won Mr. Universe at the age of 20 and took home the title of Mr. Olympia no fewer than seven times. Oliva's father and namesake was a three-time Mr Olympia, and the only man to ever beat Schwarzenegger to that title, which he did in 1969.
"I understood why they called him 'the Myth,'" Schwarzenegger wrote in his 1977 memoir. "It was as jarring as if I'd walked into a wall. He destroyed me. He was so huge, he was so fantastic, there was no way I could even think of beating him. I admitted my defeat and felt some of my pump go away. I tried."
It's far from the first time Baena has made a reference to his father's legacy in the sport. In addition to looking a hell of a lot like a young Arnold, he's recreated a handful of his dad's most iconic bodybuilder poses on Instagram before. The two also work out regularly together, with Baena calling him "the best training partner in the world."
Baena also uses his social media presence to share his gains, show off some of his favorite techniques, and encourage followers to push themselves in their own workouts. Although as of yet, he doesn't have his father's habit of correcting other people's form at the gym.
Meet the New 'Biggest Loser' Cast 2020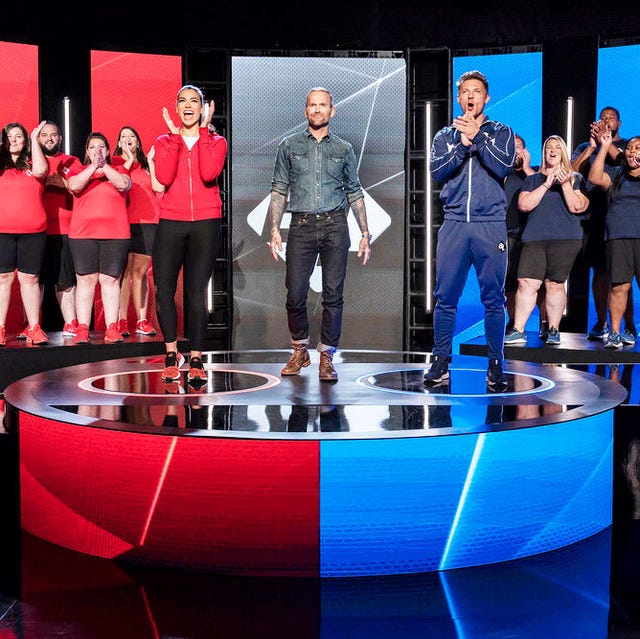 USA Network
After a four-year break, The Biggest Loser returns January 28, 2020. The series airs on USA Network, features new trainers, and emphasizes overall health, according to the team: host Bob Harper and trainers Erica Lugo and Steve Cook.
"We're really focusing on the mind-body connection," Harper told Women's Health, explaining that challenging workouts can be used to help people overcome emotional hurdles.
The show has received criticism in the past for promoting extreme and unhealthy weight loss, but the new team says their priority is to help people accomplish their fitness or health goals—not a number on the scale.
New for this season is enhanced support after the show, according to Women's Health. All contestants will receive a free gym membership, nutrition counseling, and weight-loss support groups.
"Five or six years ago I was 322 pounds, and now here I am a trainer on America's number one weight loss TV show," Lugo previously told Men's Health. "There is no one who can stop you if you want to do this."
Meet the 12 contestants on The Biggest Loser 2020:
Advertisement – Continue Reading Below
1
Domenico Brugellis
Brugellis is a dad raising a six-year-old daughter in New York, according to his bio on USA. A former chef, Brugellis is the current food manager with the Department of Education, meaning he creates the menu for students across New York City. He's struggled with maintaining a healthy relationship with food and hopes that joining The Biggest Loser helps. He begins the season weighing 323 pounds.
2
Jim DiBattista
A dad to three boys, DiBattista coaches a local youth football team in his native city, Philadelphia, Pa. Both of DiBattista's parents died young, which inspired the coach to lead a healthier life. He signed up for The Biggest Loser so he can be there for his family. He joins the first season weighing 385 pounds.
3
Katarina Bouton
Bouton, 23, is a cardiac nurse from Jacksonville, Fl, who says she always struggled with her weight. She teaches others about healthy eating, but often consumes high-calorie fast food meals due to her busy job. Bouton joined The Biggest Loser at 293 pounds to adopt the healthy habits she promotes to patients.
4
Kim Davis
Kim Davis, from Mulberry, Tenn., works as a tour guide at a whiskey distillery. She battled breast cancer nearly 20 years ago and wants to ensure she leads a long and healthy life, according to her bio. She joins The Biggest Loser at 242 pounds.
5
Kristi McCart
McCart is a wife, mother, and attorney with her own law and estate planning practice in Riverview, Fl. Her challenging relationship with food began as a child. She traveled between her divorced parents' households and rarely knew when her next meal would be. McCart has previously lost weight by using extreme measures and wants to learn healthy habits. She joins The Biggest Loser weighing 264 pounds.
6
Kyle Yeo
Yeo lived most of his life as a closeted gay man and used food to cope with hiding his true identity, according to his bio. Now, Yeo is comfortable speaking about his sexuality and wants to develop a healthier relationship with food. Yeo joins The Biggest Loser from Kansas City, Mo., where was born and raised. Yeo begins the season at 302 pounds and has the support of his family.
7
Megan Hoffman
A 35-year-old from Simi Valley, Calif, Hoffman works in operations at a gym. Hoffman would like to live a healthier lifestyle and hopes joining The Biggest Loser will help her do so. She joins the show weighing 290 pounds.
8
Micah Collum
Micah Collum, 23, hails from Oneonta, Ala., and had a difficult childhood. Collum's parents are divorced and his mother struggled with addiction, leaving Collum and his six siblings to fend for themselves. Collum played football and basketball in high school. Since graduating, he gained nearly 100 pounds and wants to develop healthier habits. He joins The Biggest Loser weighing 326 pounds.
9
PhiXavier Holmes
PhiXavier Holmes lives in Washington, D.C., where she works as a school counselor. She began using food as a coping mechanism after her father passed away. As PhiXavier's family are in Louisiana, the counselor relies on her friends and coworkers in D.C. for support. She joins this season weighing 357 pounds.
10
Robert Richardson
Robert Richardson II is a husband and father who lives in Lafayette, La. Richardson is the son of a former NFL player and dreamed of playing football professionally. However, a series of injuries shattered those dreams when Richardson was in college. He joins The Biggest Loser weighing 409 pounds.
11
Teri Aguiar
Teri Aguiar is a flight nurse who drops from the sky to save lives. A recently divorced mom of two teens, Aguiar travels throughout Illinois transporting critically ill patients by helicopter, however her weight sometimes slows down her rescues. Aguiar is also the former Miss Missouri, 1999. She joins this season weighing 256 pounds.
12
Delores Tomorrow
Delores Tomorrow is a Chicago, Il, native who wants to build a better community in her hometown. The founder of a non-profit that serves teen girls of color, Tomorrow served on the Advance Team for former First Lady Michelle Obama. She joins The Biggest Loser weighing 280 pounds.
Advertisement – Continue Reading Below