The 15 Best Men's Sweatpants of 2019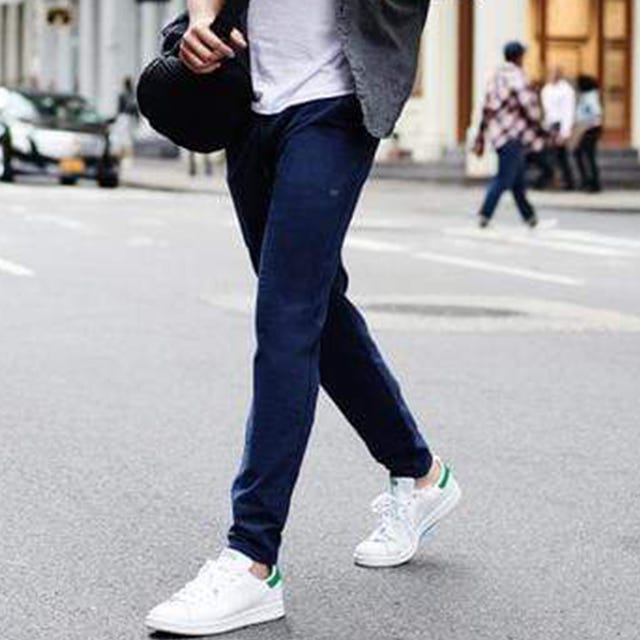 Mack Weldon
It seems like only yesterday we were rolling out of bed and slipping on our track team sweats to rush to first period class. But somewhere over the last several years we grew up, and luckily, our beloved sweats did, too.
Updated, high-quality sweatpants have made it appropriate to sport the casual style outside the confines of home or the gym. While yesteryear's baggy versions were anything but flattering, today's slim jogger sweatpants are cut closer to the body with a tapered leg that creates a much more sophisticated silhouette, so you'll look totally put together while still feeling ultra-comfortable.
If you're wondering how to wear sweatpants outside of your apartment, the easiest option to ease into the trend is to pair with a slim-fitting T-shirt—again, streamlining the shapes will keep you from looking like you're cruising around in your pajamas. Another great option is to opt for luxury sweatpants worn with a casual-yet-tailored button down in flannel or denim over a tee.
The more sartorially adventurous among us can try dressing up a pair of stylish sweatpants, preferably in a dark shade, with a T-shirt and blazer, or even a loosely tucked button-down shirt under a denim jacket. Sweats instantly make these looks a little more casual, in a way that's confident but chill.
Another pro tip: When selecting shoes to wear with sweatpants you can't go wrong with a classic sneaker, though if you're more dressed up on top try complimenting your look with a loafer.
With these styling options, a pair of high-quality sweatpants can take you just about anywhere, from the creative office with the liberal (or non-existent) dress code to all of your weekend plans.
Check out 15 best men's sweatpants you can score now and get ready to embrace comfortable style.
Advertisement – Continue Reading Below
Mack Weldon Ace Sweatpant
Basic, but in a good way, as in you'll want to get a pair of these stylish sweatpants in basically every color. Their tailored fit with back-ribbed ankle cuffs and hidden zippered side pocket (perfect for stashing your small daily gear) means they check every box. 
Todd Snyder + Champion Classic Sweatpant
With a bit of a classic collegiate vibe, we're feeling the retro detailing on these cool sweatpants. To really sport the throwback vibe from head-to-toe, wear them with boat shoes and a slim-fit polo. 
Lululemon At Ease Jogger
Precise tailoring and a cool, textured fabric that just happens to be super breathable make these luxury sweatpants a must-try. They'll be a welcome break from your jeans and chinos.  
Vuori Transit Jogger
huckberry.com
$89.00
Equipped with four-way stretch, sweat-wicking and quick-drying fabric, these stylish sweatpants can be worn to the gym, to grab a beer with friends, or both—no need to choose.
Everlane The Classic French Terry Sweatpant
A classic gray terry sweatpant is old-school in a good way, while the slim fit is completely modern. Wear them with low-top sneakers.
Nike Men's Fleece Pants
In electric orange or bright blue, these are the best joggers to display your street style game. Rock them with a hoodie, beanie, and your favorite kicks. 
Under Armour Sportstyle Terry Joggers
Ideal for running errands and catching a game with your boys, these slim jogger sweatpants actually put in work, featuring a sweat-wicking fabric to keep you cool. That means they're a good option for the gym, too. 
Rhone Commuter Jogger
These high-quality sweatpants are so sleek and sophisticated no one will even realize they're joggers; they're basically sweatpants that look like jeans. Make them your go-to for business travel. At the end of a long trip you'll still look sharp. 
Outdoor Voices CloudKnit Sweatpants
What's the best part of wearing luxury sweatpants out in the world? Yep, still the comfort factor. Once you try these super-soft slim jogger sweatpants we're betting they'll be on heavy rotation in your closet.  
Fourlaps Relay Track Pant
A zippered pocket lets you store your belongings while on the go. Come wintertime, wear them over your shorts to keep warm en route to the gym, then easily take them off over your shoes courtesy of the zippered hems.
Sunspel Cotton Cashmere Fleece Track Trousers
These high-quality sweatpants can take you from the office to a date. The cashmere blend is not only extremely soft and comfortable, but luxurious looking enough to sport anywhere, particularly when worn with a white tee, leather jacket, and loafers. 
Hill City Tech Jogger
No drawstring waist here. This sleek pair of joggers is totally streamlined with a covered elastic waistband and discreet zippered back pockets. 
Bombas Men's Cotton Sweatpants
bombas.com
$88.00
Color contrast stitching provides a fun pop of color to these slim jogger sweatpants. Plus, when you purchase a pair, Bombas will donate a pair to someone in need, so bring on the good karma.
Hiro Clark The Coastal Sweatpants
Luxurious sweatpants become extra cool with a slightly slouchy fit. Forego the elastic hems and try this fashion-forward pair. 
A.P.C. Adam Slim-Fit Tapered Cotton-Jersey Sweatpants
This sophisticated tapered sweatpant can easily be dressed up for a night out with a slim, tapered fit. 
Advertisement – Continue Reading Below
Most Extreme Animals | Coolest Things Animals Can Do
5. Stonefish are the most poisonous fish in the world.
The stonefish produces intense vasoconstriction. If you're stung by one, it can cause shock, paralysis, malaise, nausea and vomiting, sweating, delirium, pyrexia, cardiogenic shock, respiratory distress, and even death if it's not treated within a few hours by anti-venom. If you do survive, the symptoms can last a long time, from days to weeks, and full recovery may take many months.
Joe Pesci's Net Worth — What Is Joe Pesci's Net Worth Now?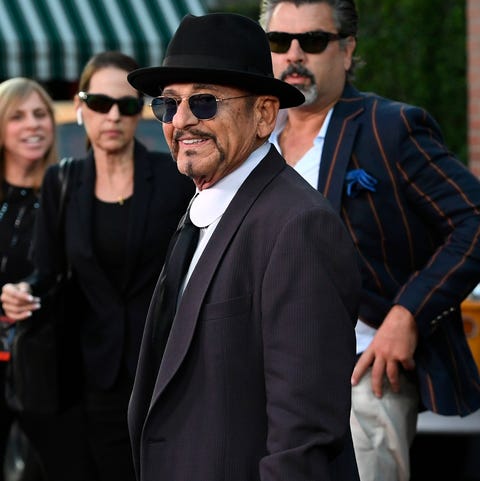 Frazer HarrisonGetty Images
The Irishman is making headlines for its great performances, incredible score, and creative retelling of one of the most mysterious disappearances in U.S. history. And, of course, the Netflix movie is also creating a lot of chatter because it's the film that finally brought Joe Pesci out of retirement.
Even though Pesci reportedly had to be asked 40 times (!) to join the film, his scenes in The Irishman make it seem like he's never left the big screen. Fans are now curious about what Pesci has been up to since his last voice role in 2015—they're also wondering about just how much money he has in the bank. Here's what we know about Pesci's net worth.
Joe Pesci's net worth is $50 million.
Pesci made a name for himself in movies like Raging Bull, Goodfellas, Home Alone, and My Cousin Vinny, but many people don't know that Pesci actually got his start as a child actor. He started starring in plays in New York at 5, and when he was 10, he made appearances on a television variety show called Startime Kids.
He was nominated for the Academy Award for Best Supporting Actor in 1981 for Raging Bull, and he ended up winning the award in 1991 for his role as the violent and hot-tempered mobster Tommy DeVito in Goodfellas.
The New Jersey native's most profitable role is his turn as burglar Harry Lyme in 1990's Home Alone, as the movie grossed nearly half a billion dollars worldwide. Pesci reprised the role in 1992's Home Alone 2: Lost in New York. He later announced that he was retiring from acting in 1999, although he's been in four movies since then, including The Good Shepherd and The Irishman.
Music is another one of Pesci's talents, and before he became an actor he released an album called Little Joe Sure Can Sing!, where he sang covers of contemporary hits. Growing up, Pesci was friends with The Four Seasons' Tommy DeVito and Frankie Valli, and its rumored that Pesci is the one that connected the band with singer and songwriter Bob Gaudio. Actor Joseph Russo portrayed Pesci in the Jersey Boys movie.
Pesci's second album, Vincent LaGuardia Gambini Sings Just for You, was released in 1998, and the album's name is a nod to his character from My Cousin Vinny. Still Singing, his latest album, was released in 2019, and it includes a song that features Maroon 5's Adam Levine.
Who Was Tony Pro? The True Story of The Irishman Character.
While Robert De Niro, Joe Pesci, and Al Pacino lead The Irishman in their roles of Frank Sheeran, Russell Bufalino, and Jimmy Hoffa, respectively, it's the movie's supporting characters that managed, at times, to steal the show. Bobby Cannavale shined as gangster Felix "Skinny Razor" DiTullio, and Sebastian Maniscalco was brilliant as "Crazy" Joe Gallo, but it's Stephen Graham's turn as Anthony "Tony Pro" Provenzano that really has fans talking.
Pro is a key part of most of The Irishman's second and third acts, but the movie doesn't delve into his later life, leading fans to wonder what happened to the New Jersey mobster. Here's what we know about Tony Pro's true-life story.
Who was Tony Pro?
Tony Pro's real name was Anthony Provenzano, and he was born in New York City in 1917. Not much is known about his early life, but by the 1950s, he was president of the Teamsters Local 560 in Union City, New Jersey, and vice-president of the International Brotherhood of Teamsters. He was also a made member of the Genovese crime family.
While The Irishman portrays Pro and Teamsters president Jimmy Hoffa as enemies pretty much from the beginning, the two were actually friendly for many years. It was later revealed that the two men were using union funds for their own personal use. Pro went to prison in 1963 for extortion, and Hoffa went to prison in 1967 for bribery and fraud, and they both ended up serving time at the Lewisburg Federal Penitentiary in Pennsylvania.
Their relationship soured while in prison, as Pro learned that he wasn't going to be eligible to get his Teamsters pension anymore. "Jimmy refused to help Pro go around the federal law and get his $1.2 million pension when he went to jail, while Jimmy got his $1.7 million pension even though he went to jail, too," Sheeran claimed in the I Heard You Paint Houses book. Hoffa further angered Pro when he allegedly told him, "It's because of people like you that I got into trouble in the first place."
After they both were released from prison in the '70s, Pro and Hoffa's relationship continued to worsen. They reportedly came across each other during a chance meeting at an airport, and Hoffa is said to have broken a bottle over Pro's head, while the mobster told the union boss that he would "rip his guts out with his bare hands and kill his grandchildren."
In 1975, Hoffa disappeared. He had been in Detroit for a meeting with Pro and mobster Anthony Giacalone, but they never showed up. Hoffa was last seen getting into a maroon Mercury in the parking lot of the Machus Red Fox restaurant in Bloomfield Township, Michigan, but no one knows what happened to him after that.
And while Sheeran later said he was the one that killed Hoffa, the case is still unsolved. However, most experts believe that Pro had something to do with it—he had an infamous grudge against Hoffa, and while some say he was in New Jersey the day of Hoffa's disappearance, other reports place him in Detroit. Pro was named as a suspect on the FBI's report about the case, called the Hoffex Memo, along with Giacalone and Russell Bufalino.
And in an interesting twist, Nixon's first public appearance after resigning as President was with Pro and some other Teamsters leaders at a golf course, just ten weeks after Hoffa's disappearance.
Where is Tony Pro today?
In 1978, Pro was convicted of ordering the 1961 murder of Anthony Castellito, the Local Teamsters 560's secretary-treasurer. He was sentenced to 25 years to life for the murder. A month after getting that sentence, Pro was also sentenced to four years for arranging kickbacks on a $2.3 million pension-fund loan. A year after that, he was also convicted on labor racketeering charges, which landed him another 20-year prison term.
Pro died in prison in 1988 at the age of 71. He's buried at St. Joseph's Cemetery in Hackensack, New Jersey.
Which actor played Tony Pro in The Irishman?
English actor Stephen Graham plays Tony Pro in The Irishman. And while it's unclear if Pro ever showed up to meetings in shorts like he did in the movie, the mobster was once described as a "short, stocky and ham-fisted man who bore the scars of his young years as an amateur boxer."
Before the movie's release, Graham talked to Esquire UK about how he got cast for the film. He recounted speaking with De Niro and director Martin Scorsese in Scorsese's house, and the legendary duo spent some time talking amongst each other. "They're gonna say I'm not Italian-looking enough, my accent," Graham recalls thinking. "They don't understand what I'm saying anyway, so how can I pull it off?"
Graham and Scorsese had actually worked together on HBO's Boardwalk Empire before reuniting for The Irishman. In that series, Graham played another notorious and hot-headed crime figure: Chicago gangster Al Capone. Scorsese directed him in the pilot, and was an executive producer for the remainder of the show's run.
After Scorsese told him that he had gotten the Irishman role, Graham said that he "felt like I've just been made, do you know what I mean? Like I'd been accepted into the family."