What Is a Mandalorian? Explaining History of 'Star Wars' Species
The Mandalorian is now live on Disney+.
What is a Mandalorian anyway, though?
Some classic Star Wars characters are Mandalorians, including one of the most famous ever.
---
With the launch of Disney+, that means there's also the launch of The Mandalorian, the first ever live-action Star Wars series. The first episode is already live, and between callbacks to powerful substances and a wild ending (don't click unless you've already watched!), the show is already at the top of every Star Wars fan's chart. But for some more casual fans, there are a couple lingering questions; namely, what, exactly, is a Mandalorian? Who is this main character? And why does he look like Boba Fett?
And we can answer a few of these questions right off the bat. A Mandalorian is a species in Star Wars, something of a subset of humans—they come from the planet Mandalore. Boba Fett, while technically not a Mandalorian himself (we'll get to that in a little bit), is the platonic Mandalorian, and wears a set of traditional Mandalorian armor and helmet. The main character in The Mandalorian, now, is no one we've seen before (as far as we know); he's played by Game of Thrones star Pedro Pascal, and seems to be more on the anti-hero side than villain. That being said, he's still a Bounty Hunter, and his goal is looking out for number one.
There's extreme backstory lore to the Mandalorians, a human race in Star Wars world based on the planet of Mandalore. For more in-depth reading, you can check out the Star Wars fandom page, which dives deep into the subject, which is mostly explored in the Star Wars: The Clone Wars and Rebels animated series (which sees the race co-opted and fought by none other than Darth Maul. It's wild stuff!). But for our purposes here, we'll stick to the basics.
Outside of the cartoon series, the only Mandalorians have primarily appeared in the movies. Chronologically speaking, the first major Mandalorian character that is introduced to the story is Jango Fett, a villainous bounty hunter whose silver armor looks remarkably like the titular character of the TV show. Jango is eventually decapitated at the onset of The Clone War by Jedi Mace Windu (Samuel L. Jackson).
Some of the extended universe stuff, however, puts Jango's status as a Mandalorian in question. The Star Wars Fandom page says that despite his wearing Mandalorian armor, the fact that he was simply a human carrying out Palpatine's evil made him not qualify; the planet of Mandalore supposedly considered him a pretender. Wookiepedia, however, paints a different picture, as Jango apparently rehabilitated his image in a novel called Order 66 (which is no longer considered canon).
It's also interesting to note that the most famous of all the Mandalorians—Boba Fett—isn't, really, a Mandalorian at all. As you may recall in Attack of the Clones (as painful as that sentence is to write), Boba Fett is actually a direct clone of his arguably Mandalorian father, Jango Fett. So your own take on whether or not Jango qualifies as a Mandalorian—and whether a clone counts as anything other than, well, a clone—could lead to the answer of how you'd classify our friend Boba.
That being said, Boba Fett stands for all the ideals that we would imagine a Mandalorian to stand for. First of all, he's just a complete, inarguable badass—the man is probably the most famous bounty hunter in film history despite not even reaching seven minutes of total screentime in the original Star Wars trilogy. That's gotta mean something, right?
Surely, with a show called The Mandalorian, we'll learn more about, well, the Mandalorians. But as of right now, we already do know quite a bit—and if the first episode is any indicator, we'll have a pretty cool character to tag along on an adventure with.
Patrick Schwarzenegger's New Horror Movie Explores Mental Health
In Patrick Schwarzenegger's latest movie, Daniel Isn't Real, the actor (and scion of the Schwarzenegger dynasty) plays an imaginary friend who reappears in a troubled young man's life, and seems to embody his darkest impulses. Schwarzenegger recently told Variety that he took his inspiration from movies like Fight Club and American Psycho when getting into character, and that the script's themes of mental illness were what drew him to the role.
"I think we, as a society, focus a lot on the idea of gun violence and stuff like that, which I agree is something that needs to be addressed, and a topic that needs to be discussed and outlawed," he said, when asked his thoughts on movies inciting acts of real life violence. "But a lot of it comes from mental health. It's something a lot of people don't talk about. It's a hard subject to tackle and bring up. That's the reason why I liked this film. To the audience, you think the Miles character is nuts. You see that other people are judging him. That's the thing with mental health. To the person, something is really real. To other people, it's nothing. That's the scary part of it."
In particular, Schwarzenegger hopes that the way that men in particular struggle with mental health issues, often suffering in silence and feeling they aren't able to reach out for help, will change.
"It's something that a lot of young men don't like to talk about and aren't vulnerable toward and aren't open to expressing their feelings about what they are dealing with," he said." It gets built up, and things end up happening that are terrible. It's a real issue, and we need to address it as a society."
Most Extreme Animals | Coolest Things Animals Can Do
5. Stonefish are the most poisonous fish in the world.
The stonefish produces intense vasoconstriction. If you're stung by one, it can cause shock, paralysis, malaise, nausea and vomiting, sweating, delirium, pyrexia, cardiogenic shock, respiratory distress, and even death if it's not treated within a few hours by anti-venom. If you do survive, the symptoms can last a long time, from days to weeks, and full recovery may take many months.
Joe Pesci's Net Worth — What Is Joe Pesci's Net Worth Now?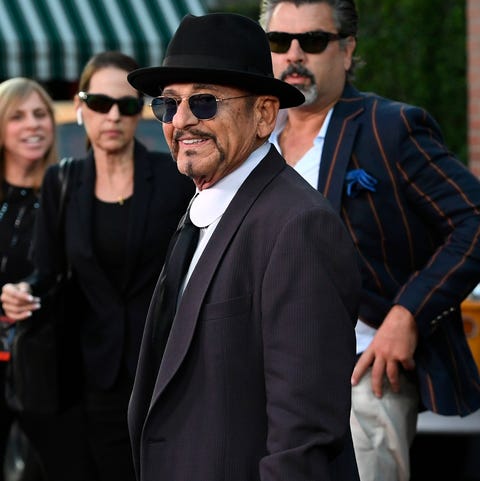 Frazer HarrisonGetty Images
The Irishman is making headlines for its great performances, incredible score, and creative retelling of one of the most mysterious disappearances in U.S. history. And, of course, the Netflix movie is also creating a lot of chatter because it's the film that finally brought Joe Pesci out of retirement.
Even though Pesci reportedly had to be asked 40 times (!) to join the film, his scenes in The Irishman make it seem like he's never left the big screen. Fans are now curious about what Pesci has been up to since his last voice role in 2015—they're also wondering about just how much money he has in the bank. Here's what we know about Pesci's net worth.
Joe Pesci's net worth is $50 million.
Pesci made a name for himself in movies like Raging Bull, Goodfellas, Home Alone, and My Cousin Vinny, but many people don't know that Pesci actually got his start as a child actor. He started starring in plays in New York at 5, and when he was 10, he made appearances on a television variety show called Startime Kids.
He was nominated for the Academy Award for Best Supporting Actor in 1981 for Raging Bull, and he ended up winning the award in 1991 for his role as the violent and hot-tempered mobster Tommy DeVito in Goodfellas.
The New Jersey native's most profitable role is his turn as burglar Harry Lyme in 1990's Home Alone, as the movie grossed nearly half a billion dollars worldwide. Pesci reprised the role in 1992's Home Alone 2: Lost in New York. He later announced that he was retiring from acting in 1999, although he's been in four movies since then, including The Good Shepherd and The Irishman.
Music is another one of Pesci's talents, and before he became an actor he released an album called Little Joe Sure Can Sing!, where he sang covers of contemporary hits. Growing up, Pesci was friends with The Four Seasons' Tommy DeVito and Frankie Valli, and its rumored that Pesci is the one that connected the band with singer and songwriter Bob Gaudio. Actor Joseph Russo portrayed Pesci in the Jersey Boys movie.
Pesci's second album, Vincent LaGuardia Gambini Sings Just for You, was released in 1998, and the album's name is a nod to his character from My Cousin Vinny. Still Singing, his latest album, was released in 2019, and it includes a song that features Maroon 5's Adam Levine.