Dr. Emma Craythorne on TLC
Dr. Emma Craythorne on TLC
• TLC has announced an upcoming show that looks a lot like Dr. Pimple Popper, except it's based in the UK.
• The star is Dr. Emma, a dermatologist and dermatological surgeon.
• TLC has not announced an exact premiere date for Dr. Emma's show, but we can't wait.
---
Have you ever been watching Dr. Pimple Popper and thought to yourself, Gee, I wish there were another show exactly like this, but British? Well, fantasize no longer! TLC is turning that dream into a reality with a new show about a dermatologist named Dr. Emma.
"We're traveling across the pond to bring you TLC's newest medical miracle worker!" TLC announced in a Thursday Instagram post. "Dr. Emma is changing lives on a can't-miss new series coming soon."
"Dr. Emma" may not have the same ring as "Dr. Pimple Popper," but judging by the sneak peek video on TLC's Instagram, the intrepid doctor seems to treat the same kind of gnarly skin conditions: oozing zits; giant cysts; unexplained rashes. Except, as we mentioned before, it's all British.
"Might just give it a wee squeeze, if that's alright?" Dr. Emma says, forcing heaps of yellow gunk from a patient's skin. (Oh yes. We can definitely get behind this new show.)
Behold the glorious announcement here:
Who is TLC's Dr. Emma?
The star of TLC's new medical show is Dr. Emma Craythorne, a UK-based dermatologist and dermatological surgeon. According to her bio page on Guy's and St Thomas' NHS Foundation Trust, Craythorne specializes in skin cancer, scarring, laser surgery, skin imaging, and Mohs micrographic surgery, which is a surgical procedure to treat skin cancer.
Craythorne attended the University of Dundee's School of Medicine and Surgery and completed her specialist dermatology training and London's King's College Hospital.
When does Dr. Emma's TLC show premiere?
For now, all we know is that the show is "coming soon," per TLC's announcement. We'll update this post with more details as they emerge.
Watch Dr. Pimple Popper Pop a Tiny, Sticky Tan 'Button' Cyst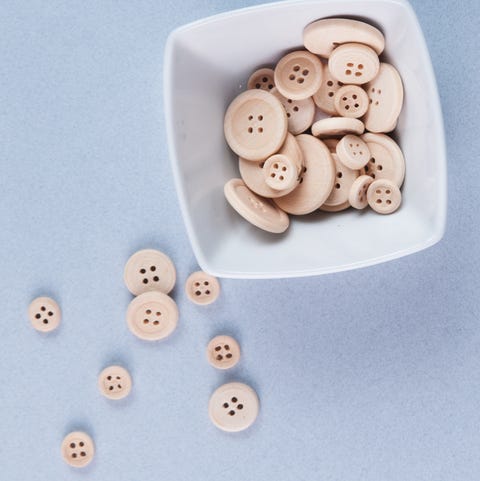 Sian Cox / EyeEmGetty Images
In a new Instagram video, Dr. Pimple Popper removes a tiny growth from behind a patient's ear.
Dr. Lee says the growth, which appears to be a cyst, is like a tiny tan "button" under the skin.
The growth looks to be a sebaceous cyst, which arise from the sebaceous glands and can have tan-colored contents.
In a new Instagram video, Dr. Pimple Popper—aka, dermatologist and TLC host Dr. Sandra Lee, MD—removes a tiny, sticky growth from behind a patient's ear. Dr. Lee says the growth, which appears to be a cyst, is like a "button" under the skin. In fact, it looks like those tiny tan buttons on button-up shirts that you always struggle to actually secure.
In the clip, Dr. Pimple Popper nicks the growth to give it an avenue of escape. She then presses down with a comedone extractor, pushing out tan-hued goop from deep inside the patient's skin. The famed derm says that the patient thought the growth was a mole because he couldn't see it—but it's obviously not, given the type of gunk that comes out.
"Wanna see?" Dr. Lee asks the patient in the clip. "It's like a little button."
The growth looks to be a sebaceous cyst, which arise from the sebaceous glands and can have tan-colored contents. The sebaceous glands secrete sebum, or the oily substance that lubricates hair and skin.
Watch the perfect pop in the clip below:
Tales From the Loop Season 2
Tales From the Loop is Amazon's newest sci-fi offering, and as the season one synopsis explained, the show "explored the mind-bending adventures of the people who live above the Loop, a machine built to unlock and explore the mysteries of the universe–making things previously relegated to science fiction, possible."
The first season more than delivered on that promise, and characters like Russ, Loretta, George, Cole, May, and Gaddis helped to create a world that seemed both unreal and very real at the same time—and those robots and floating rocks were pretty cool too.
Fans are already thinking about what could happen on the second season of the show, and it turns out that it's very likely that Tales From the Loop could be renewed. But before that, take a look at everything you need to know about a possible second season of Tales From the Loop.
When will season 2 of Tales From the Loop premiere?
Tales From the Loop hasn't officially been renewed for a second season, but if it is, it wouldn't be surprising if it premiered sometime in late 2021. However, series creator and writer Nathaniel Halpern seems hopeful for a second season, as he told Vanity Fair that, "The Loop itself is essentially a storytelling generating device. It's somewhat endless what you can do with it, so I would love to have a second season. But it's a bit early."
What will season 2 of Tales From the Loop be about?
The first season of Tales From the Loop was inspired by the art book of the same name by Simon Stålenhag, and each episode showcased the story of a different character. All of those stories were connected by the main story of the Loop, and a second season would likely follow that same structure. Additionally, Stålenhag has even more books to use as source material.
Who will be in the cast of season 2 of Tales From the Loop?
Tales From the Loop could decide on a totally different cast for season two, or they could go the way of American Horror Story and cast the same actors as different characters. The season one cast included Rebecca Hall as Loretta, Abby Ryder Fortson as Young Loretta, Daniel Zolghadri as Jakob, Tyler Barnhardt as Danny Jansson, Paul Schneider as George, Jonathan Pryce as Russ, Duncan Joiner as Cole, Ato Essandoh as Gaddis, Nicole Law as May, Jane Alexander as Klara, and Tyler Barnhardt as Danny Jansson.
Clif Bar's New Coffee Selections Taste Test Review
Welcome to MH Certified, where Men's Health puts its stamp of approval on the best products you need to look, feel, and live better than ever before.
Clif Bar's Coffee Collection is a mighty tasty, mighty potent form of easily tapped energy for endurance activities.
The coffee-infused snacks all contain about 65 milligrams of caffeine per bar—the equivalent of one shot of espresso.
Each bar also contains about 9 grams of protein, 4 grams of fiber, and 250 calories.
---
Every year, my guy friends and I go on a ski trip. We live in the Northeast, so it's usually to some dinky mountain where there may or may not be snow. As insurance that we'll have a good time, we always book a rental place that has at least the following: a pool table, a hot tub (or "man pot," as we've come to call it), a streaming service or well-stocked DVD library, and a full kitchen.
That last part is important, because although many of us are moderately skilled skiers and snowboarders, we are all highly skilled eaters. You can tell this from the snacks we bring: tubs of cheese balls, nori-flavored potato chips, extra-salty pretzels, spicy cheese curls, white cheddar popcorn … and the list continues.
None of this stuff is particularly good for us. I realize that. But when you've been snowboarding all day (or, okay fine, sitting in a man pot for an extended period of time), you need to replenish. And while we cook "real" food, we snack on all that other stuff.
Yet while late-evening, pre-dinner snacks, abound, there's another, arguably more important snack category that's too often overlooked. These are the snacks that precede strenuous activity, which for us is tackling the terrain parks, but for others may be hiking, surfing, kayaking, climbing, mountain biking, parkour, or general horseplay.
No one ever remembers the mid-morning snacks. Until this year, when someone did—someone named me. This year, I brought Clif Bar's new Coffee Collection, which had just come out in December. Here's how our experience with them went down.
"Oh, What Are Those?"
"Those are Clif's new coffee-flavored bars," I told my buddy, a coffee fan. I knew his next question.
"So there's caffeine in them?"
"Yeah, like the same amount as an espresso."
He looked over each bar: Dark Chocolate Mocha, Caramel Macchiato, Vanilla Almond Latte. Each one has about 250 calories, 9 grams of protein, 4 grams of fiber, and 65 milligrams of caffeine. I'm not sure if he cared about anything other than the caffeine, at least at first. But you might.
"Oh, These Are Really Good."
The morning I tore into my first bar (I went with the Vanilla Almond Latte), we were all assembling toward the ski resort, timing it in the hopes that we'd arrive as the slopes first opened. Anyone who has ever tried to motivate a group of dudes to do something at the same time early in the morning knows what a challenging task that is—because there's always That One Guy.
So I pushed a Dark Chocolate Mocha on That One Guy. I chowed down on my bar, a sweet-and-nutty-and-bitter combo that went down easy, and he followed suit.
"Oh, these are really good," he said.
"Oh, These Are Hoooooold Onto Your Butts!"
After eating one of the coffee bars, you have about T-minus 20 minutes before it's go time. The caffeine boost isn't the pull-your-hair-out kind you might be used to from energy drinks. Instead, you're treated to a mellow, sustained hit of energy that can carry you through your next activity until it's time to power through a tub of cheese balls.
Plus, the roughly 45 grams of carbohydrates provide a lasting source of easily digestible energy for anything the terrain park might throw at you.
The Bottom Line: At our guys' trip, Clif Bar's Coffee Collection finally gave some long overdue recognition to the mid-morning snack. But the quick energy boost they provide would be equally great whether you were staring down a mountain of fresh powder or a pile of emails at 3:00 p.m. Clif Bar's Coffee Collection offers a powerfully nutritious, wildly delicious fuel for any challenge.