Fans Love Alexei from 'Stranger Things 3' and His Slurpee
Fans Love Alexei from 'Stranger Things 3' and His Slurpee
Warning: This post contains spoilers for Stranger Things 3! Stop reading now if you haven't seen the season yet.
---
Alec Utgoff played Alexei in season three of Stranger Things.
Fans fell in love with his love for Slurpees and wholesome nature.
Utgoff is currently filming a Dracula miniseries.
---
When it comes to TV shows, we grow to love characters over the span of many episodes, and often many years. However, there are also some characters that come into your life for just a couple of episodes―but the mark that they leave is indelible. And I'm here to say that Alexei from Stranger Things is one of those characters.
Let's backtrack a little. Alexei was an engineer working at one of the Russians' secret underground bunkers, and Hopper and Joyce took (well, pretty much kidnapped) him in order to get some answers about what was going on around Hawkins. They try to get some information out of Alexei, but he refuses to answer until he's given Whoppers from Burger King and a Cherry 7/11 Slurpee (he'll settle for Strawberry, though).
Alexei's love and dedication to his Slurpee gave us one of the best reaction memes that I've ever seen:
Later, at the Hawkins Fun Fair, Alexei has a bit of fun playing a dart game, and the look of joy on his face after he wins a Woody Woodpecker prize is so wholesome. However, he is soon killed by Grigori, an Arnold-as-The Terminator-esque Russian operative. RIP sweet prince.
However, I am not the only one who was moved by Alexei's short but impactful life on Stranger Things. Fans on Twitter have been sharing images and memes of his sweet cherub face online.
But if you want to see Alexei again, you don't have far to look. According to iMDB, the actor that plays Alexei is named Alec Utgoff, and he's currently filming a miniseries about Dracula that's set to debut later this year. We will be watching. Intently.
Patrick Schwarzenegger's New Horror Movie Explores Mental Health
In Patrick Schwarzenegger's latest movie, Daniel Isn't Real, the actor (and scion of the Schwarzenegger dynasty) plays an imaginary friend who reappears in a troubled young man's life, and seems to embody his darkest impulses. Schwarzenegger recently told Variety that he took his inspiration from movies like Fight Club and American Psycho when getting into character, and that the script's themes of mental illness were what drew him to the role.
"I think we, as a society, focus a lot on the idea of gun violence and stuff like that, which I agree is something that needs to be addressed, and a topic that needs to be discussed and outlawed," he said, when asked his thoughts on movies inciting acts of real life violence. "But a lot of it comes from mental health. It's something a lot of people don't talk about. It's a hard subject to tackle and bring up. That's the reason why I liked this film. To the audience, you think the Miles character is nuts. You see that other people are judging him. That's the thing with mental health. To the person, something is really real. To other people, it's nothing. That's the scary part of it."
In particular, Schwarzenegger hopes that the way that men in particular struggle with mental health issues, often suffering in silence and feeling they aren't able to reach out for help, will change.
"It's something that a lot of young men don't like to talk about and aren't vulnerable toward and aren't open to expressing their feelings about what they are dealing with," he said." It gets built up, and things end up happening that are terrible. It's a real issue, and we need to address it as a society."
Most Extreme Animals | Coolest Things Animals Can Do
5. Stonefish are the most poisonous fish in the world.
The stonefish produces intense vasoconstriction. If you're stung by one, it can cause shock, paralysis, malaise, nausea and vomiting, sweating, delirium, pyrexia, cardiogenic shock, respiratory distress, and even death if it's not treated within a few hours by anti-venom. If you do survive, the symptoms can last a long time, from days to weeks, and full recovery may take many months.
Joe Pesci's Net Worth — What Is Joe Pesci's Net Worth Now?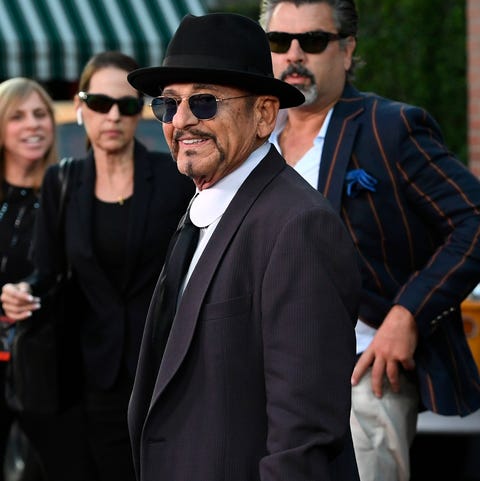 Frazer HarrisonGetty Images
The Irishman is making headlines for its great performances, incredible score, and creative retelling of one of the most mysterious disappearances in U.S. history. And, of course, the Netflix movie is also creating a lot of chatter because it's the film that finally brought Joe Pesci out of retirement.
Even though Pesci reportedly had to be asked 40 times (!) to join the film, his scenes in The Irishman make it seem like he's never left the big screen. Fans are now curious about what Pesci has been up to since his last voice role in 2015—they're also wondering about just how much money he has in the bank. Here's what we know about Pesci's net worth.
Joe Pesci's net worth is $50 million.
Pesci made a name for himself in movies like Raging Bull, Goodfellas, Home Alone, and My Cousin Vinny, but many people don't know that Pesci actually got his start as a child actor. He started starring in plays in New York at 5, and when he was 10, he made appearances on a television variety show called Startime Kids.
He was nominated for the Academy Award for Best Supporting Actor in 1981 for Raging Bull, and he ended up winning the award in 1991 for his role as the violent and hot-tempered mobster Tommy DeVito in Goodfellas.
The New Jersey native's most profitable role is his turn as burglar Harry Lyme in 1990's Home Alone, as the movie grossed nearly half a billion dollars worldwide. Pesci reprised the role in 1992's Home Alone 2: Lost in New York. He later announced that he was retiring from acting in 1999, although he's been in four movies since then, including The Good Shepherd and The Irishman.
Music is another one of Pesci's talents, and before he became an actor he released an album called Little Joe Sure Can Sing!, where he sang covers of contemporary hits. Growing up, Pesci was friends with The Four Seasons' Tommy DeVito and Frankie Valli, and its rumored that Pesci is the one that connected the band with singer and songwriter Bob Gaudio. Actor Joseph Russo portrayed Pesci in the Jersey Boys movie.
Pesci's second album, Vincent LaGuardia Gambini Sings Just for You, was released in 1998, and the album's name is a nod to his character from My Cousin Vinny. Still Singing, his latest album, was released in 2019, and it includes a song that features Maroon 5's Adam Levine.